21 September to 1 October 2023 in Eutin an Plön
Eutin and Plön are looking forward to welcoming you, as members of the Neue Bachgesellschaft, to Holstein Switzerland! Numerous musical highlights await you in both cities for the week     of the Bach Festival. Guests can look forward to the vocal ensembles "Sjaella" and "Ælbgut", the German National Youth Choir, the St. Thomas Boys Choir, "Flautando Köln" with Heikko Deutschmann, the trio "ClariNoir", the jazz duo Uwe Steinmetz and Daniel Stickan, organists from all over Germany and the next generation of musicians from the universities in Lübeck and Hamburg, who have incorporated the motto "Bach Commutes" into their programmes. Tickets can be purchased through the website www.bachfest2023.de.
St Matthew Passion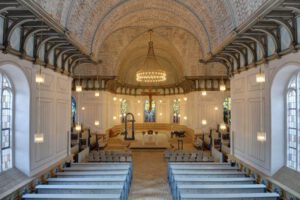 A special event will be the performance of the St Matthew Passion at the Nikolaikirche (Saint Nicholas Church) in Plön, where audience members can experience the full power of the double-choir composition: Under the batons of the two artistic directors, Henrich Schwerk (Plön) and Antje Wissemann (Eutin), the choirs, orchestras and soloists will be making music together from the choir of the church (I) and the organ loft (II).

Excursion
Bach himself came to Lübeck to hear Dietrich Buxtehude perform. On Saturday, 30 September 2023, an excursion will take participants to this city, whose skyline is still punctuated by its seven church spires. Sign up soon to reserve your seat on the bus.
Castle visit with reduced admission for NBG members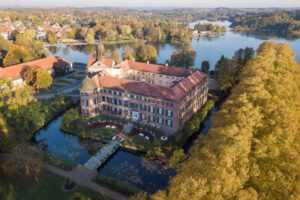 The Eutin Castle is offering a special discount: Members of the NBG who show their membership ID can purchase tickets at a reduced price (€ 6 instead of € 10). The castle will also be hosting a special exhibition whose title, "Symptom: Barock" (Symptom: Baroque), is a perfect fit to the themes of the Bach Festival. In the "Alte Schlossküche", the event office will be the meeting place for NBG members at the Bach Festival – a good opportunity to stop by the Eutin Castle now and then and chat with other members.
Sing-Along Bach Cantata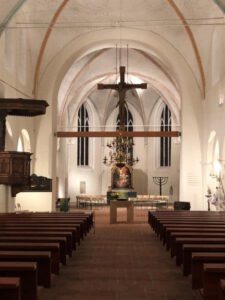 Experienced choir singers who have independently prepared their notes in advance are invited to sing Wer da gläubet und getauft wird (He who believes and is baptised), BWV 37, with the choir on Wednesday, 27 September 2023, under the direction of Christfried Brödel. The piece will be performed during a musical prayer service starting at noon in Eutin at the St. Michaeliskirche (St Michael's Church). The sermon will be given by Britta Taddiken, pastor of the Thomaskirche (St Thomas Church) in Leipzig. If you would like to register for this event, simply send an email, specifying your singing voice, by no later than 4 September 2023.
See you this autumn in Eutin and Plön!
97th Bach Festival of the Neue Bachgesellschaft
"Bach commutes"
21 September to 1 October 2023 in Eutin an Plön
www.bachfest2023.de