Today, the programme for our Organisation's 93rd Bach Festival, the Bach Festival 2018 Tübingen,       was officially presented by the organisers at a press conference in Tübingen. Around 70 different events are planned for the Festival, which will take place from 28th September through 7th October 2018. These performances will focus on the theme "Bach bearbeitet" ("Bach adapted").
The 93rd Bach Festival of the Neue Bachgesellschaft e.V. will be organised under the patronage of Winfried Kretschmann, Minister President of the state of Baden-Württemberg, with funding from the foundation Baden-Württemberg Stiftung and other sources.
The complete programme and other important information about the Bach Festival Tübingen can be found online at www.bachfest-2018.de. You can also keep up with the latest news by visiting the event's Facebook page: www.facebook.com/bachfest2018. If you would like to order a printed programme, please send an email to bachfest@tuebingen.de or call +49 (0) 7071 204-1341.
Ticket orders:
Website: www.reservix.de
We look forward to seeing you in Tübingen!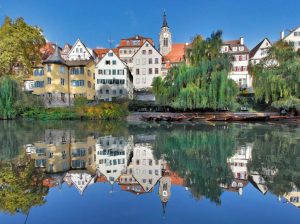 Photo: Ulrich Metz / Universitätsstadt Tübingen