The idea and concept of the Bach Academies go back to Helmuth Rilling who founded the International Bach Academy Stuttgart in 1981 and led it until his 80th birthday in 2013. His cause of making the works of Johann Sebastian Bach – especially his church cantatas, oratorios and passions – known to many people is still very relevant today. At these academies, music students and alumni are given the opportunity to perform works of Bach under the guidance of experienced musicians. This work is intended to reach far beyond the countries where Bach's works are already part of common cultural heritage. Its goal is to spark an interest in and excitement over Bach's works in many places all around the world.
In 1990, Helmuth Rilling became president of the Neue Bachgesellschaft e.V. and held this post until 1996. In 1991, he asked Christfried Brödel, another long-time member of the Neue Bachgesellschaft active on the board of directors, to set up this kind of academy work in Romania with the support of the Neue Bachgesellschaft: seven academies took place in Cluj-Napoca since 1991 before the courses were relocated to Ukraine in 2004. For many years now, artistic direction has been reliably provided by church music director ret. Prof. Dr. Dr. h.c. Christfried Brödel while Dieter Bernhardt is in charge of the organisation.
During the Bach Academies, the music students and musicians taking part in a course that lasts a good week learn to perform the works selected for the course, filling all positions – soloists, choir, orchestra, conductor – themselves. They are instructed in classes given by German teachers. Afterwards they work together as an ensemble and finally give several performances in different places. The overwhelmingly positive feedback from the participants encourages us to continue this important and exciting academy work in the future.
Here's a look back at previous academies:
2021:
8th Bach Academy in Dnipro / Ukraine
7th – 19th November 2021


2018:
7th Bach Academy in Dnipropetrowsk/ Ukraine
5th – 16th November 2018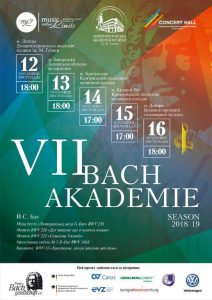 2016:
6th Bach Academy in Dnipropetrowsk/ Ukraine
7th – 18th November 2016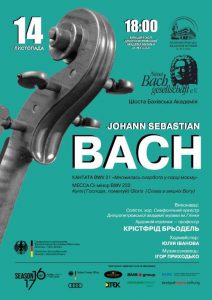 cantata BWV 21 Ich hatte viel Bekümmernis
BWV 232 Missa (Kyrie and Gloria,  h-Moll-Messe)
2013:


5th Bach Academy in Donetsk, Ukraine
19th – 29th November 2013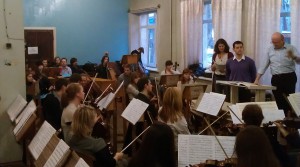 In intensive rehearsals, seven instructors from Germany joined their colleagues at the Donetsk State Prokofiev Conservatory to prepare around 100 students for the performance of selected works by Johann Sebastian Bach. This year there were different courses (conducting/choir, singing, strings, winds and continuo) in which the participants studied the Mary cantatas
• BWV 10 "Meine Seele erhebet den Herrn"
• BWV 147 "Herz und Mund und Tat und Leben" as well as the
• Magnificat in D major BWV 243.
Subsequently, all parts were brought together in group and tutti rehearsals. For the first time, a previously conducted country-wide application process also gave students from the Ukrainian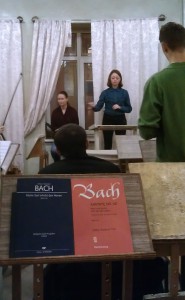 music academies of Odessa, Kharkov and Lviv the opportunity to take part in the academy. A concert and talk as well as three performances at different venues in Donetsk made for an impressive conclusion to the 2013 Bach Academy.
The German consulate general and the Neue Bachgesellschaft e.V. put up a considerable amount of financial support as the German partners of this German-Ukrainian collaboration. On the Ukrainian side, several sponsors and supporters as well as the organiser, the Donetsk State Prokofiev Conservatory, helped make the project a success.
2010


3rd Bach Academy in Donetsk, Ukraine
1st – 10th February 2010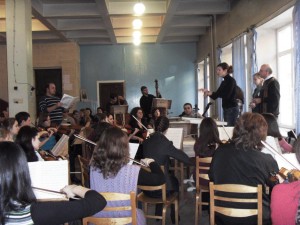 The following works were on the programme for one week of courses and the subsequent concerts:
• Cantata BWV 117 "Sei Lob und Ehr dem höchsten Gut"
• Cantata BWV 179 "Siehe zu, dass deine Gottesfurcht nicht Heuchelei sei"
• Missa in G major BWV 236
• Concerto in E-flat major for Viola, Strings and Basso continuo
2006


2nd Bach Academy in Donetsk, Ukraine
7th – 16th November 2006

In a tried and tested way, around 100 young orchestra musicians, choir singers, soloists and conductors were taught the necessary knowledge and skills for their own performances. For the second Bach Academy in Ukraine, the following works were selected:

• Cantata BWV 21 "Ich hatte viel Bekümmernis"
• Cantata BWV 140 "Wachet auf, ruft uns die Stimme"
• Orchestra Suite BWV 1066 No. 1 in C major
• J. Brahms, motet "Warum ist das Licht gegeben den Mühseligen"

After nine days of academy work, the participants of the course presented this programme in very successful performances including the final concert at the crowded Donetsk Philharmonic.
2004


1st Bach Academy in Donetsk, Ukraine
12th – 23rd April 2004

For the first time a Bach Academy was held in Ukraine. A total of 108 students from the classes in singing, strings, woodwinds, continuo, choir and conducting at the Donetsk Prokofiev Conservatory prepared the performance of the

• St. John Passion

under the artistic direction of Prof. Dr. Christfried Brödel, director of the Church Music College in Dresden.

The results of the course work were presented in several performances of the piece including a concert with discussion and the final concert at the Donetsk Philharmonic. The success of the academy and the great interest of participants and listeners have raised everyone's hope and wish to continue this kind of work every two years.

For information about the Bach Academies in Romania, please refer to our archive.