The NBG – The Association
The Neue Bachgesellschaft e.V. was founded in Leipzig on 27th January 1900. It succeeded the Bach-Gesellschaft which had been founded in Leipzig in 1850 to realize a publication of Johann Sebastian Bach's collected works and, once this goal had been achieved in 1900, was disbanded as provided by its statute. The Neue Bachgesellschaft currently has about 3,000 members around the world and has been working for over 100 years to popularize the works of Bach everywhere. To this end, annual Bach Festivals are held in different cities. Almost every year since 1904 there has been a new edition of the Bach Annals including latest reports on Bach research.
In 1907, the Neue Bachgesellschaft opened the first Bach museum in the city of Johann Sebastian Bach's birth, the Bachhaus Eisenach. Today the over 600-year-old bourgeois house with an extension built in 2006 invites visitors from all over the world to discover the life and work of Johann Sebastian Bach.
The biannual newsletter (currently only available in German) keeps all members up-to-date on the work of the association. It also includes latest reports and interesting facts about Johann Sebastian Bach, Bach museums and institutions. You'll also find CD reviews, event recommendations and a look back at past Bach Festivals as well as an outlook on upcoming ones.
Members' Meeting
The members' meeting usually takes place once a year on the occasion of the Bach Festival of the Neue Bachgesellschaft.
The next members' meeting will take place during the 97th Bach Festival of the Neue Bachgesellschaft in Eutin on Saturday, 23th September 2023, at 10 a.m.. An invitation and a registration form will be sent out with the newsletter in spring 2023.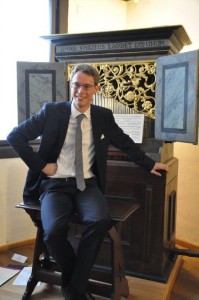 After the members' meeting on 3rd May 2014, the members of the NBG were invited to join a field trip to Kleinschwabhausen and Eisenach. The focal point of the trip was a positive organ from Bach's immediate environment which the Neue Bachgesellschaft had acquired and restored between 2009 and 2012. When Bach was working in Weimar, the 350-year-old instrument stood at 10 km distance in Kleinschwabhausen. Today it is on display at the Bachhaus. Following a visit to the church in Kleinschwabhausen – including some spontaneous musical performances on the church's current organ – the participants of the trip witnessed an impressive concert at the Bachhaus Eisenach. Johannes Lang, 2012 Bach Prize winner in the organ category, played on various historical instruments, performing works of Bach, Buxtehude and Weckmann, and improvising on three themes. To conclude this successful day, the director of the Bachhaus, Dr. Jörg Hansen, gave a guided tour of the Neue Bachgesellschaft's museum including the new special exhibition, and in the end everybody got together for coffee and cake. Thanks to everyone who had a part in making this wonderful day a success!